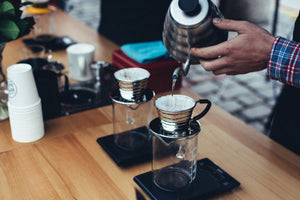 Black Fodder Coffee
Solo Training: a class to learn a new brewing technique
Sale price Price $300.00 Regular price
You've been brewing good coffee at home for some time, but you feel you lack some skill or you'd like to get proficient with another method of making coffee. Is Chemex, V60, French press, AeroPress, siphon, or solo on your mind? We've got you covered. Or maybe you're thinking of buying an espresso machine to delight your family and friends with lattes, flat whites, cappuccinos, and cortados? No problem. Available online, so you can literally take it from anywhere in the world.

Every drink is a little different, from the equipment, through the way you stretch milk (for espresso-based drinks), to the cups you serve them in. We'll explain all of it and give you the confidence to add it to your home coffee menu and serve with pride.
We'll take you through our custom-built 5-step process that will include determining your needs, selecting the right gear (if you need any), setting it up and learning how to use it, mastering the brewing technique of your choice, and doing an overview a week later to solidify your newly-acquired knowledge and skills.
Invite a friend or a few and get a handsome discount.
Are you ready to get some brew in the game?