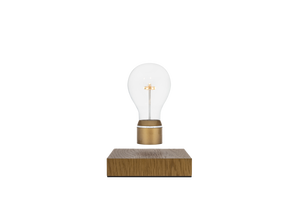 Flyte
Flyte Royal levitating light bulb
Sale price Price $329.00 Regular price
Levitating light bulb FLYTE Royal is our oak edition and one of our best sellers. Royal features an Edison style borosilicate glass bulb, a 7 LED star-shaped filament, a gold cap and an aluminum ring. The base is crafted from a sustainably-sourced oak wood.
FLYTE Royal uses an energy efficient LED rated to last about 50,000 hours. That's equivalent to 12 hours of usage a day for 11 years!
FLYTE Royal is designed in Sweden.
Details
Includes oak base, lightbulb with gold cap and AC adapter.
No batteries required.
Lifetime: 50,000 hours
Efficiency: 16 lm/W
Max brightness: 60 lumens
Power adapter: 15 volts, US plug
Global voltage compatible: 100-240 V
Usage: indoor use only
Weight of base: 500 grams / 1.10 pounds
Base dimensions: 126 mm x 126 mm x 30 mm (5 in. x 5 in. x 1.2 in.)
Warranty: 1 year
Video
How to
Levitation requires a bit of practice, so don't get frustrated if it takes several attempts to learn how to set it up.
With the right technique, setting up your FLYTE can take as little as a few seconds. Now, that's magic!