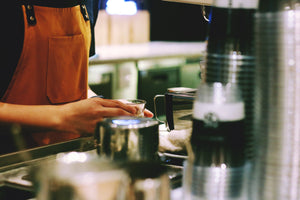 Black Fodder Coffee
First Steps In Craft Coffee training
Sale price Price $300.00 Regular price
You are ready to awaken your inner barista. You are ready to begin brewing amazing coffee at home, but you're not sure where to start. We've got you. First Steps In Craft Coffee is designed to get you brewing, soon. The training takes place online over a video call.
We've developed a simple 5-step process to combat intimidation and give you confidence and skills. We'll determine your needs, select the right gear, set it up and show you how to use it, learn a brewing technique, and, finally, do an overview of the whole process to solidify your newly-acquired knowledge and ability. Rest assured we'll hold your hand every step of the way.
Invite a friend or a few and get a handsome discount.