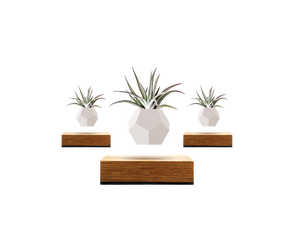 Flyte
Lyfe Planter 3-pack
Sale price Price $799.00 Regular price
Our 12-sided geodesic planter is molded from silicon, making it grippy and tactile.
As it rotates in mid air, different shades appear, providing a hypnotic and relaxing experience for your home or office. Watch your plant twirl in the air, and experience it from different angles.
To mitigate against over-watering, a cleverly designed drainage system allows water to escape to a hidden, inner reservoir.
Includes
3 x oak base, silicon planter and AC adapter.
* Plants not included
Details
The pot holds up to 250 grams.

Base dimensions: 154 mm x 154 mm x 38 mm (6 in. x 6 in. x 1.5 in.)
Base weight: 1,300 grams (45.8 ounces)
Planter dimensions: 80 x 100 mm
Planter weight: 240 grams (8.5 ounces )
AC adapter: input 100-240 V - 50/60Hz; output 15V 1A
Video
How to
Levitation requires a bit of practice, so don't get frustrated if it takes several attempts to learn how to set it up.
With the right technique, setting up your LYFE can take as little as a few seconds. Now, that's magic!