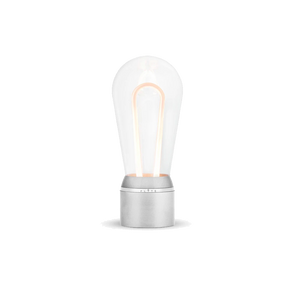 Flyte
Marconi single bulb
Sale price Price $49.00 Regular price
The Flyte bulb is a magnetically levitating light bulb designed to be used with the Flyte base (sold separately).

* Please note that the Flyte bulbs are not compatible with the LYFE units.
Details
Lifetime: 50,000 hours
Efficiency: 0.4 lm/W
LED: warm white
Color temperature: 2600 K
Max brightness: 60 lumens
LED power consumption: < 1 W
Bulb weight: 130 g / 4.6 oz
Bulb dimensions: 140 mm x 50 mm x 50 mm (5.5 in. x 2.0 in. x 2.0 in.)
Video
How to
Levitation requires a bit of practice, so don't get frustrated if it takes several attempts to learn how to set it up.
With the right technique, setting up your FLYTE can take as little as a few seconds. Now, that's magic!